Comprehensive hall and hangar solutions
PVC halls and hangars
We offer comprehensive solutions for PVC halls and hangars, from design and base layer preparation to electrical, heating and interior solutions. A PVC hall or hangar is the simplest, quickest and most affordable solution. Our delivery times are short and deadlines guaranteed.
We design, manufacture and install steel-framed PVC halls and hangars with dimensions and solutions to suit your needs.
Request a quote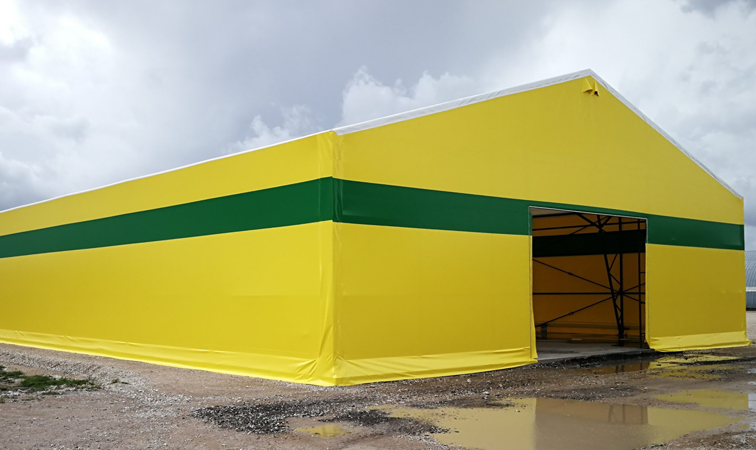 Our hangars, PVC halls and corresponding steel structures are made considering the snow and wind loads applicable in Estonia.
We manufacture hangars or halls according to the dimensions and shape requested by the client, be it a slanted-roof tent, an arched hall, a pitched-roof hall or another solution.
To stand out from our competitors, we also make extra-large halls. We have projects for halls up to 60 metres wide. There are no restrictions on length.
The PVC material is 900 g/m2. For the coating, we use high-quality products from a factory in Germany. PVC coating is non-combustible and its melting point is ca 2000 degrees Celsius.
We make halls in a variety of colours and you can also print your logo, photos, texts or other information on the materials.
PVC is easy to clean and maintain. Thanks to the bolted joints used to assemble the frame, we can easily relocate the hall.
PVC halls can also be rented or bought on lease. Down payments start from 0%.
Advantages of PVC halls over other halls:
PVC halls are a durable solution that will last for decades in our climate
PVC halls are installed directly on an asphalt site without the need for any foundation work and the site can be used after the hall has been disassembled
As the hall's roof is made of a material that allows 75% of light to come through, no additional lighting is needed during the day
PVC halls can be easily disassembled and relocated
There is a lively secondary market for PVC halls. You can sell your PVC hall for 70% of the purchase price later on
PVC halls are cheap to maintain and repair
PVC halls can be purchased on lease or on deferred terms
You can print logos or advertisements on PVC
References
A selection of halls and hangars made by us